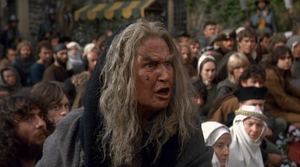 The Ancient Booer (also known as the Ancient Woman) is an old lady that boos loudly and speaks out against Queen Buttercup in her nightmare about marrying Humperdinck. Margery Mason portrayed her.
Ancient woman (to Buttercup): "Because you had love in your hands, and you gave it up!"
Ancient woman: "Your true love lives, and you marry another!"
Ancient woman (to Crowd): "True love saved her in the Fire Swamp, and she treated it like garbage! And that's what she is! The Queen of Refuse! So bow down to her if you want! Bow to her! Bow to the Queen of Slime! The Queen of Filth! The Queen of Putrescence!"
Ancient woman: "Boo! Boo! Rubbish! Filth! Slime! Muck! Boo! Boo! Boo!"
Description
Edit
Withered and bent. Buttercup did not know this woman before this event.
Names for Buttercup
Edit
Queen of Refuse, Queen of Slime, Queen of Filth, Queen of Putrescence
Ad blocker interference detected!
Wikia is a free-to-use site that makes money from advertising. We have a modified experience for viewers using ad blockers

Wikia is not accessible if you've made further modifications. Remove the custom ad blocker rule(s) and the page will load as expected.