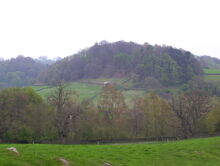 Bradley Rocks, near Birchover in Derbyshire, England is the real geographic location of Buttercup's farm in Florin. It is seen for the first time in a long-shot from Robin Hood's Stride across the valley. A public footpath runs behind the 'farm' which is in fact a derelict building and a farm shed.The footpath runs from the valley bottom by the B5056 road, where there is a very limited amount of parking.
Visit http://www.geograph.org.uk/photo/2928677 to see a map of the area. If you click on the map a 1:25 000 map will pop-up.
Ad blocker interference detected!
Wikia is a free-to-use site that makes money from advertising. We have a modified experience for viewers using ad blockers

Wikia is not accessible if you've made further modifications. Remove the custom ad blocker rule(s) and the page will load as expected.