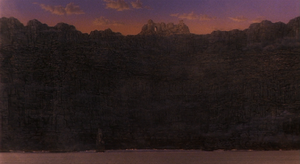 The Cliffs of Insanity consist of an erect rock face in front of the ocean. Vizzini docks his boat there after kidnapping Buttercup and scales the cliff face with Fezzick's help.
Although it takes a big strong giant like Fezzick to scale the cliffs, The Man in Black (a.k.a. Westley) manages to scale it even faster.
Ad blocker interference detected!
Wikia is a free-to-use site that makes money from advertising. We have a modified experience for viewers using ad blockers

Wikia is not accessible if you've made further modifications. Remove the custom ad blocker rule(s) and the page will load as expected.