Domingo Montoya
Talk

0
53pages on
this wiki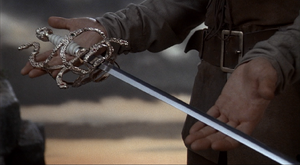 Domingo is t
he late father of Inigo Montoya.  A skilled swordsmith, he was only ever interested (in the novel) in making special swords for very particular circumstances.
Years ago, Domingo was approached by Count Rugen, a man who had six fingers on his right hand. Rugen asked Domingo to forge a sword for him that would be comfortable for his unique grip, and to this end, Domingo slaved for a year to create the perfect sword.  In the end, Domingo declared himself an artist once completing this sword.  In the movie Westley proclaimed "I've never seen its equal."
When Rugen returned one year later, he betrayed Domingo by cheapening the blade by only wanting to pay 1/10th of its original promised price. Domingo refused to give him the sword (not because of money, but because Rugen did not appreciate his hard work and effort) and instead gave it to his son Inigo. Enraged by this, Count Rugen stabbed Domingo through the heart and killed him. Inigo challenged Rugen to a duel but lost and recieved twin scars along his cheeks by Rugen before leaving. Inigo then devoted the next 20 years of his life to study swordsmanship in order to avenge his father by murdering Count Rugen with the very sword he commissioned Domingo to forge in the first place.
When Inigo is unable to find Westley, he calls upon his father to guide his sword to him. The sword guides him to the secret knot on the tree, which reveals the secret entrance to the Pit of Despair.
Eventually, Inigo manages to kill Count Rugen with the sword in a duel, thus avenging his father's death.