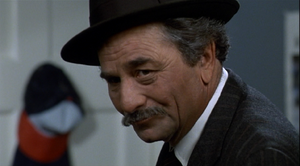 Grandfather
, played by the late Peter Falk, is the narrator of the Princess Bride film. In the book there was no grandfather, instead it was a father telling the story to his son, Billy.
At the beginging of the movie, Grandfather visits his sick grandson and gives him The Princess Bride as a present, saying "It was the book my father read to me when I was sick, and I read it to your father, and I'm going to read it to you."
Grandfather appears to care for his grandson, humoring him by skipping 'the kissing parts,' explaining to him that Buttercup does not get eaten by the shrieking eels.
Ad blocker interference detected!
Wikia is a free-to-use site that makes money from advertising. We have a modified experience for viewers using ad blockers

Wikia is not accessible if you've made further modifications. Remove the custom ad blocker rule(s) and the page will load as expected.