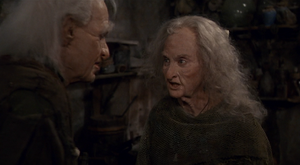 Valerie is Miracle Max's wife who is played by Carol Kane in The Princess Bride.
Biography
Edit
She is very put off when Miracle Max refuses to help Westley after he uses the bellows on his mostly dead body to find out that "true love" is his motivation for living. She insists that his confidence was shattered after Prince Humperdinck fired him.
Ad blocker interference detected!
Wikia is a free-to-use site that makes money from advertising. We have a modified experience for viewers using ad blockers

Wikia is not accessible if you've made further modifications. Remove the custom ad blocker rule(s) and the page will load as expected.